All Recipes
Soy-Braised Stove-Top Pot Roast with Carrots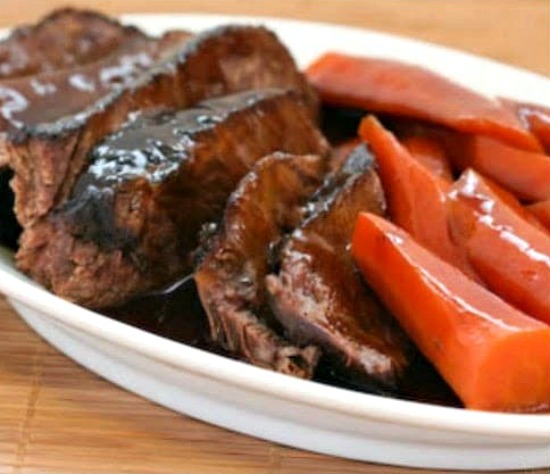 What do you need?
How to make?
Ingredients
3 lb. beef chuck roast, fat trimmed
steak rub, to season roast before browning
1-2 tsp. olive oil
1 1/2 cups water
1/2 cup soy sauce
1 tsp. dried rosemary
1 tsp. dried thyme
1 tsp. garlic powder
2 bay leaves
8-10 peppercorns
8-10 large carrots, peeled and cut into same-size diagonal cut pieces
1 T cornstarch or arrowroot starch
Directions
Trim most of the visible fat, especially on the edges of the pot roast, and rub with steak rub (optional, I like Pride of Szeged Steak Rub) (or salt and pepper.)Heat olive oil in heavy dutch-oven type pan and brown the roast well on all sides. (I even stand it up and brown the edges if it's a thick roast like this one.)(While roast browned, I put the rosemary, thyme, and garlic powder into my mortar and pestle and ground them together. This is optional, since I strained the sauce later, but I think grinding dried spices releases a lot of flavor.)When roast is well browned, add water, soy sauce (I used Tamari), dried rosemary, dried thyme, garlic powder, bay leaves, and peppercorns.Reduce heat to lowest possible simmer, cover pan, and cook about 2 1/2 hours, or until beef is starting to get tender.Remove meat to a plate and add carrots to bottom of the pan.Put roast back on top of carrots and cook about 30 minutes more, or until meat is very tender and carrots are barely tender. (I like carrots with a little bite left in them, but cook them to your preference.)Remove meat and carrots to a glass casserole dish, cover with foil and keep warm in the oven.Skim off any visible fat on top of sauce (or use a fat separator if you have one) then strain sauce to remove peppercorns, bay leaves, and any bits of dried herbs.Put sauce back in pan and cook on high until it's reduced by about 1/3. (Taste to see if it seems flavorful enough.)Mix the tablespoon of cornstarch or arrowroot starch into 1/4 cup cold water, then whisk into sauce and cook until it thickens slightly.Serve beef and carrots with sauce.