All Recipes
Spaghetti Squash Low-Carb Taco Bowl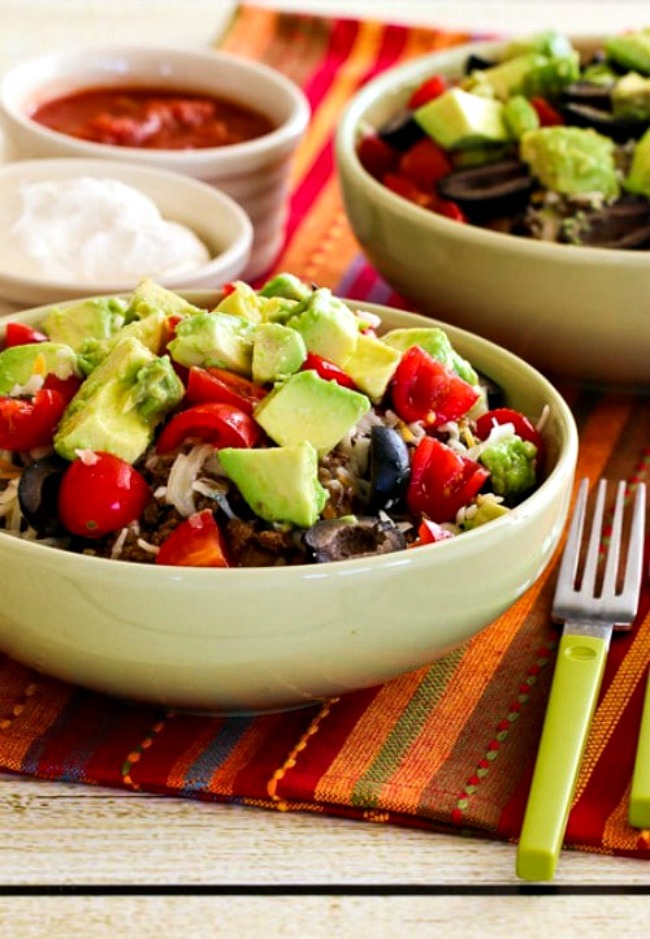 Meal

Main Dish

Cusine

Low-Carb
What do you need?
How to make?
Ingredients
1 large spaghetti squash
2 tsp. olive oil
1-2 tsp. chili powder
1 tsp. Spike Seasoning
freshly ground black pepper to taste
1 tsp. + 1 tsp. olive oil
1 medium onion, chopped
1 lb. lean ground beef
2 T Kalyn's Taco Seasoning
1 can
2 cups water
1 can olives, drained and cut in half lengthwise
1-2 medium avocados, chopped
1 T fresh-squeezed lime juice, to toss with avocado
1-2 cups chopped cherry tomatoes
1 cup grated cheese
sour cream
salsa
Directions
Preheat oven to 400F/200C. Spray a large baking sheet with non-stick spray or olive oil.Cut spaghetti squash into fourths lengthwise and scrape out the seeds and stringy part. Brush or rub the surface of the squash with olive oil and season with chili powder, Spike Seasoning and black pepper.Roast the squash about 60 minutes, or until the squash strings apart easily when scraped with a fork. (You can also cook the spaghetti squash in a slow cooker or in an Instant pot or even cook it in the microwave.)While the squash is roasting, heat 1 tsp. olive oil in a large frying pan. Add the chopped onion and cook over medium-high heat until the onion is starting to brown slightly, about 3-4 minutes.Add the ground beef to the pan (adding more oil if needed). Cook the ground beef until it's nicely browned, breaking apart with a turner (or use an old-fashioned Potato Masher like I do to break the meat apart.) Add the Spike Seasoning and Kalyn's Taco Seasoning and cook a couple minutes longer.Add the diced green chiles with juice and 2 cups water, stir to combine, and turn heat to a very low simmer and let it cook while the squash roasts. You want to simmer the meat until most of the water has evaporated but there's still a little bit of liquid left in the pan, because that liquid drips down and flavors the squash in the bowl. (It's okay to add more water during the simmering time if it evaporates more quickly than you had planned.)While the meat simmers, cut up the tomatoes, drain olives and cut in half, and chop avocados and toss them with the lime juice.Remove the spaghetti squash from the oven when it's slightly browned and strings apart easily with a fork. Let squash cool a few minutes until it's easier to handle, then use a fork to scrape the "spaghetti" part away from the skin, discarding skin.Divide the spaghetti squash into four bowls. Top each bowl of squash with one-fourth of the saucy meat mixture, grated cheese, tomatoes, olives, and avocado.Serve with sour cream and salsa to add at the table as desired.If you omit the cheese and don't serve it with sour cream this recipe can easily be made Paleo.