All Recipes
Chopped Middle Eastern Salad with Purslane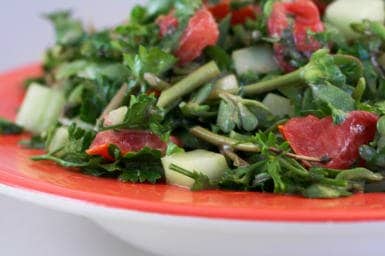 Meal

Breakfast

Cusine

Middle Eastern
What do you need?
How to make?
Ingredients
3 large tomatoes, diced, salted, and drained
1 large cucumber, diced small
2 cups chopped purslane
1 cup finely chopped parsley
1/2 cup finely chopped mint
salt, fresh ground pepper to taste
zest of one lemon
2 T fresh lemon juice
2 T extra virgin olive oil
1 T mayo or plain yogurt
Directions
Dice tomatoes in 1/2 inch pieces, place in colander, sprinkle with salt, and let drain while you prepare other ingredients.Chop cucumber in 1/4 inch pieces and place in large bowl.Trim purslane, discarding roots and large stems and keeping tender stems with attached leaves.Wash well in salad spinner, rinsing several times.Chop coarsely so pieces are about an inch long.Add purslane to cucumbers.Wash mint and parsley, spin dry, chop finely with chef's knife or food processor, and add to cucumbers and purslane.Zest lemon and squeeze juice into small bowl.Add mayonnaise or yogurt to lemon juice and whisk until well combined.Keep whisking as you add olive oil, about half a tablespoon at a time, until all oil is combined with other ingredients.Remove tomatoes from colander, blotting dry with paper towel if they still seem wet.Gently combine tomatoes, cucumbers, purslane, mint, and parsley.Drizzle dressing over and combine again.Season salad with salt and freshly ground pepper and serve immediately.