All Recipes
Red and Green Tomato Salad with Hearts of Palm, Mint, and Spicy Thai Dressing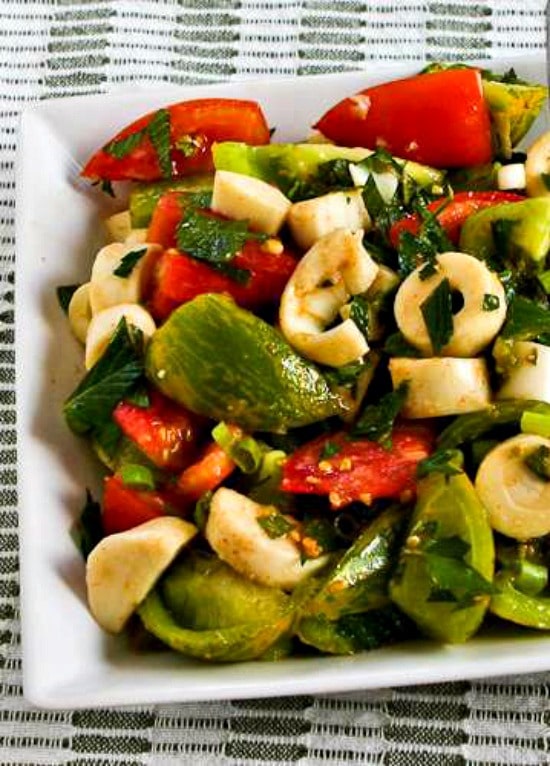 What do you need?
How to make?
Ingredients
4 cups tomato wedges, preferably a mixture of at least 2 colors of tomatoes
1 cup thickly-sliced hearts of palm
1/3 cup thinly sliced green onions
1/3 cup chopped fresh mint
2 T fresh-squeezed lime juice
1 T rice vinegar
1 T fish sauce
1 tsp. Sriracha Sauce
1 tsp. sweetener of your choice
1/2 tsp. Thai Red Curry Paste
1/2 tsp. garlic puree
1 T grapeseed oil
Directions
Cut tomatoes into wedges and put them in a colander to drain while you prep the other ingredients.Drain the hearts of palm and slice into thick slices, then break the slices into rings (or cut them into half-moon shapes if they don't break into rings.)Slice enough green onions to make 1/3 cup.Wash, dry, and chop fresh mint, cilantro, or Thai basil.Put the lime juice, rice vinegar, fish sauce, Sriracha Sauce, Thai Red Curry Paste, and garlic puree into a glass measuring cup and stir until the curry paste is mixed into the other ingredients, then whisk in the oil.Taste the dressing and if it seems a bit strong to you, add a tiny bit more oil.Put all the salad ingredients into a bowl, add the dressing, and stir gently to combine.Serve right away; this does not stay good for more than a few hours.