All Recipes
Barley Pilaf with Dried and Fresh Mushrooms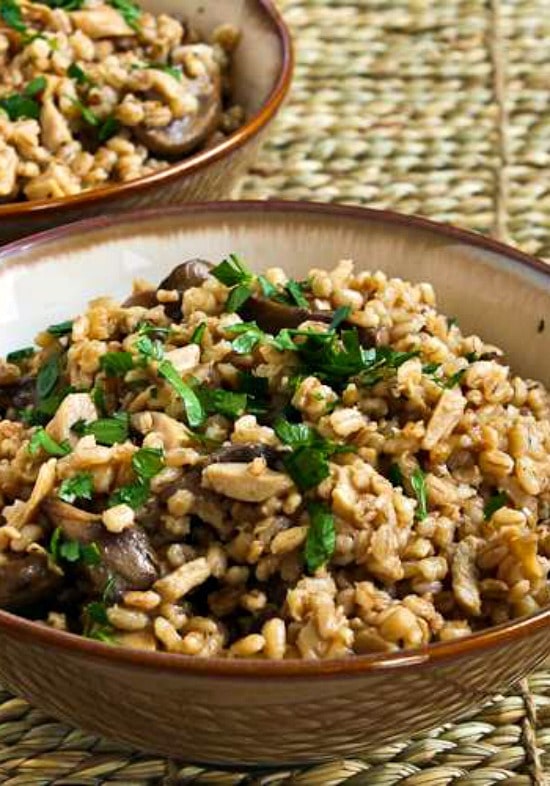 What do you need?
How to make?
Ingredients
1 ounce
8 ounces sliced white or Portobella mushrooms
1 1/2 cups pearl barley
3 cups chicken stock or canned chicken broth
1 cup boiling water for mushroom soaking liquid, later simmered until reduced to 1/2 cup
1/4 tsp. dried thyme
1/4 tsp. onion powder
1 T + 1 T butter or margarine use margarine for South Beach Diet)
1 T + 1 T extra virgin olive oil
Directions
Put dried mushrooms on cutting board and coarsely chop with chef's knife, then place them in bowl and pour 1 cup boiling water over. Let stand 30 minutes.After 30 minutes, strain mushrooms (a coffee filter or a piece of cheesecloth would work for this) catching liquid. Boil mushroom liquid to reduce to 1/2 cup.Heat 1 T butter or margarine and 1 T olive oil in dutch oven type pan. (If you're using a non-stick pan you can use less oil.) Add barley and saute 3-5 minutes, until barley is slightly toasted and well coated with oil.Add stock, reduced mushroom juice, thyme, and onion powder, bring to a boil, then lower heat, cover, and simmer until all liquid is absorbed and barley is tender, about 30-35 minutes. Add more liquid and cook longer if needed to get the barley to the degree of tenderness you want.When barley is tender and all liquid is absorbed, turn off heat.In very large deep frying pan, heat remaining butter or margarine and olive oil. Saute fresh mushrooms 3-5 minutes, until most of the liquid has evaporated and mushrooms are softened. Add dried mushrooms and saute 2-3 minutes more, then stir in barley and heat through.Serve hot, garnished with fresh chopped parsley.