All Recipes
Braised Green Beans with Garlic, Tomatoes, Olives, and Capers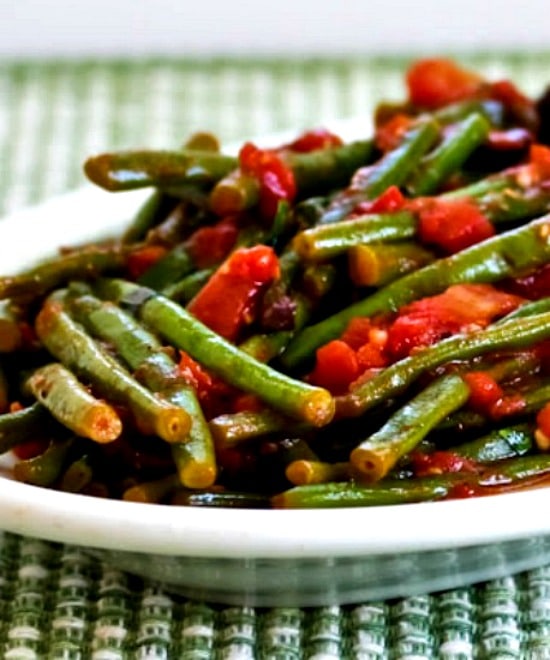 What do you need?
How to make?
Ingredients
1 lb. fresh green beans, ends trimmed
2 tsp. finely minced fresh garlic
1 T olive oil
1 can diced tomatoes with juice
8-10 Kalamata olives, coarsely chopped
1 T capers
salt and fresh ground black pepper to taste
2 tsp. thinly sliced fresh basil
Directions
Trim or cut ends from greens beans. (I do this by standing up a handful of beans, letting them fall down to the cutting board so ends are lined up, then trimming across the end with a knife; repeat with the other end.)Coarsely chop the Kalamata olives and mince the garlic.Heat olive oil in a heavy skillet with a lid, using medium heat. Add the minced garlic and cook about 1 minute, just until the garlic is getting fragrant.Add the beans and stir until beans are all coated with the hot oil. Add the canned tomatoes with juice, chopped Kalamata olives, capers, and 2 T water.Reduce heat to low, cover the pan, and simmer for about 20 minutes, or until beans are just starting to get tender. I checked them and stirred a few times. (If you have bigger beans, they will take a little longer to cook.)When beans are barely tender, remove lid, raise heat to medium, and cook cook until any remaining liquid is evaporated, probably not longer than a minute or two. (Add the thinly sliced fresh basil now if you're using it.)Season beans with salt and fresh ground black pepper to taste, and serve hot.