All Recipes
Saffron Chicken with Parsley and Lemon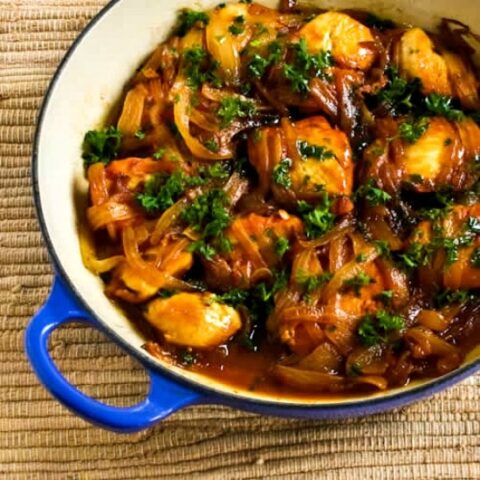 What do you need?
How to make?
Ingredients
2 boneless, skinless chicken breasts
1 onion, cut in lengthwise slivers
1 T olive oil
1 T butter
pinch saffron
3/4 cup chicken stock
1 1/2 T fresh lemon juice
1/4 cup finely chopped fresh parsley
Directions
Trim all visible fat and tendons from chicken breasts and cut in 1/2 strips on the diagonal to make small cutlets. Peel the onions and cut into lengthwise slivers and chop parsley. Use a heavy frying pan which is not too large and has a tight-fitting lid.  Heat the olive oil and butter, then brown the chicken quickly over medium-high heat.  (Don't let it cook long enough that the outside starts to get hard.  The chicken does not need to be cooked through.) Remove chicken to a plate, add onion, and brown over very low heat until edges of onion pieces are turning golden, about 12-15 minutes.  Remove browned onions to another plate. Add chicken back to pan, and cover with onions. Heat chicken stock, add saffron and stir to dissolve, then pour over chicken and onions. Simmer on very low heat with pan covered 30-45 minutes. Add chopped parsley, lemon juice, and a tiny bit of additional water if needed, and simmer 15 minutes more. Serve hot, over rice if desired.