All Recipes
Vegetarian Whole Wheat Pasta with Fried Kale, Tomato Sauce, and Goat Cheese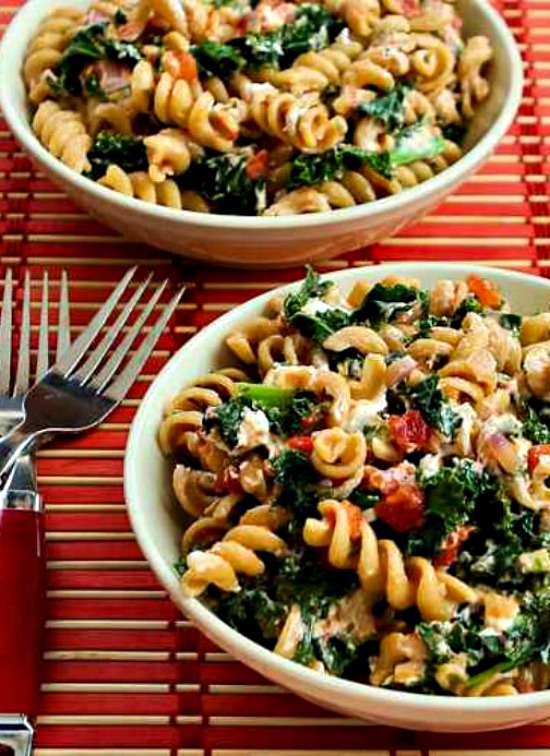 Meal

Pasta

Cusine

Vegetarian
What do you need?
How to make?
Ingredients
8 oz. Garofalo Whole Wheat Fusilli
1 tsp. salt, for pasta cooking water
2 tsp. + 2 tsp. olive oil
1/3 cup chopped red onion or shallots
2-3 large garlic cloves, finely minced
2-3 T chopped fresh Italian flat-leaf parsley
1 T chopped fresh thyme leaves
1/2 cup chicken or vegetable stock
1 can canned petite dice tomatoes plus juice
generous pinch of red pepper flakes
8 oz. chopped kale leaves
salt and fresh ground black pepper to taste
4 oz. crumbled goat cheese
Directions
Start a large pot of water boiling, and add the salt.When the water comes to a boil, add the pasta and cook at a low boil for 11 minutes (or the amount of time specified on the package if you're not using the Garofalo Whole Wheat Fusilli that I used.)When pasta is done, drain well, reserving 1/4 cup of the pasta cooking water.While the pasta cooks, heat 2 tsp. olive oil in a large frying pan.Add the chopped red onion and saute for a couple of minutes, until the onion softens.Add the minced garlic, chopped parsley, and chopped thyme leaves and saute a minute more.Add stock, petite diced tomatoes plus juice, and a generous pinch of red pepper flakes and let the sauce cook at a low simmer while you saute the kale.Chop up the kale, cutting away inner ribs if they're thick. (The easiest way to chop kale is to cut off the stems with kitchen scissors, pile up the kale leaves in a stack, and then slice the kale one way, turn the cutting board, and slice the other way.I cut the kale into pieces 1-2 inches square.Wash kale in a salad spinner if needed.)Heat the other 2 tsp. of olive oil in another large frying pan (preferably with high sides), add the kale all at once, and fry the kale over medium-high heat, turning often, until it's barely tender-crisp.This will take 2-4 minutes, depending on how hot your stove is.After you've drained the pasta, stir it into the pan with the tomato sauce, then stir in the fried kale and gently combine.Season the dish to taste with salt and fresh-ground black pepper.Stir in the crumbled goat cheese (and reserved pasta cooking water if desired) and gently stir to coat the pasta with the goat cheese.Serve hot.