All Recipes
Whole Wheat Pasta Salad with Fried Kale, Tomatoes, Olives, Feta, and Pesto Vinaigrette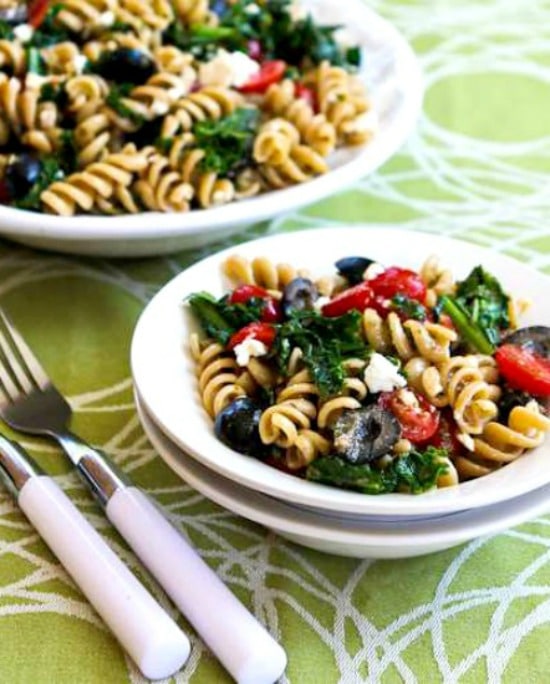 What do you need?
How to make?
Ingredients
8 oz. Garofalo Whole Wheat Fusilli, or other whole wheat pasta of your choice
1 tsp. salt
6-8 oz. kale leaves, coarsely chopped
1 T olive oil
1 cup cherry tomato halves
1 can black olives, drained and cut in half
1/4 cup crumbled Feta
1 T fresh-squeezed lemon juice
2 T white balsamic vinegar, or other mild white vinegar
2-3 T pesto
2 T olive oil
Directions
Bring a large pot of salted water to a boil, add pasta, stir, and reduce heat to a low boil and cook for exactly 11 minutes (or according to package directions if you're using a different type of pasta.) Drain pasta into a colander placed in the sink and let it drain well.While the pasta cooks, chop up the kale leaves (cutting away the inner ribs if they're large), and wash kale in a salad spinner if needed.Heat the olive oil in a large non-stick frying pan with high sides, add the kale all at once, and stir-fry for 2-3 minutes until the kale has wilted and is starting to get tender. (It should still be a little chewy but not raw tasting.) Turn off pan and let the kale cool.Mix together the fresh-squeezed lemon juice, white balsamic vinegar, and pesto, then whisk in the olive oil to make the dressing. (Start with 2 T pesto and then taste to see if you'd like to add the other tablespoon for more pesto flavor.)When the pasta has drained well but is still warm, transfer it to a bowl and stir in about half the dressing. Let the pasta sit while you cut cherry tomatoes and olives and crumble the feta.Stir the cooled kale into the pasta in the bowl. Add the tomatoes and olives and gently combine; then add more dressing as desired (depending on how moist you like your salads.)If you don't use all the dressing save it for drizzling over tomatoes or to perk up any leftover salad. Gently stir in the crumbled Feta, season salad to taste with salt and fresh-ground black pepper, and serve.I usually don't like to refrigerate salads with tomatoes, but this was still quite good the second day.