All Recipes
Grilled Chicken Kabobs with Asian Marinade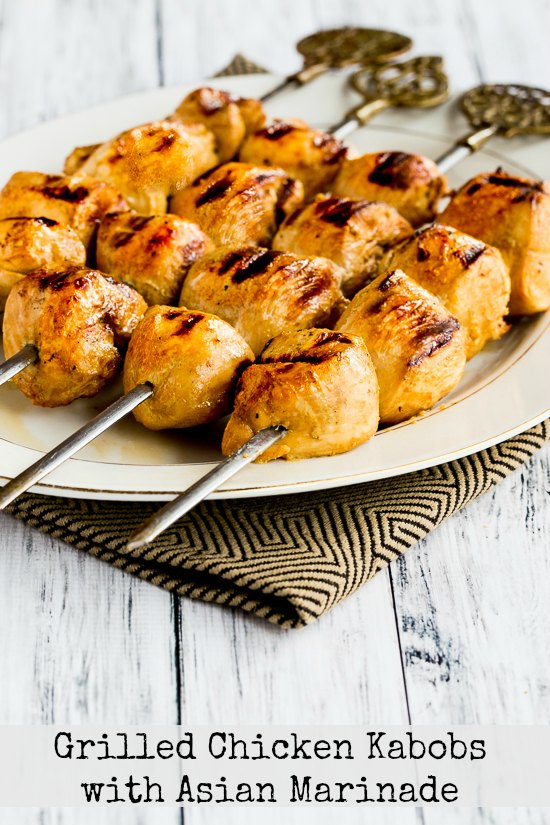 Meal

Breakfast

Cusine

American
What do you need?
How to make?
Ingredients
4 skinless, boneless chicken breasts or 8 skinless, boneless chicken thighs
1/8 cup peanut oil
1/8 cup olive oil
1/4 cup soy sauce
1 T Asian sesame oil
1 T garlic puree
2 tsp. ginger puree
3 T fresh lime juice
1 tsp. Madras Curry Powder or any curry powder you like will work
salt, pepper to taste
Directions
Mix together the peanut oil (or more olive oil), olive oil, soy sauce, sesame oil, garlic puree, ginger puree, fresh lime juice, and curry powder to make the marinade.Trim chicken, removing all visible fat and tendons.Cut chicken breasts into 4 or 5 crosswise strips.For thighs, cut into two pieces each.Arrange chicken in single layer in Ziploc bag, pour marinade over and marinate 6-10 hours in the refrigerator.If you're going to be home, turn it a few times, but it's not essential.To cook, drain chicken in a colander in the sink and let it come to room temperature while you preheat gas or charcoal grill to medium high.Spray the grill with non-stick spray or brush with oil before you heat. (You can also brush a little oil directly on the kabobs after you've assembled them.)Thread chicken on to skewers, folding each piece over so it won't spin around on the skewer. (I like blade shaped skewers or double skewers to prevent the meat from spinning.)Put chicken on grill and cook 8-10 minutes, rotating a partial turn a few times for maximum grill marks.Then turn chicken over and cook about 5 minutes more, or until chicken feels firm but not hard to the touch.For best results, use an instant-read meat thermometer and take the chicken off when it reaches 165F/75C. (See more about safe temperatures for food.)Serve hot.Leftover grilled chicken would be great on a salad like this one.