All Recipes
Pasta Salad with Italian Sausage, Zucchini, Red Pepper, and Olives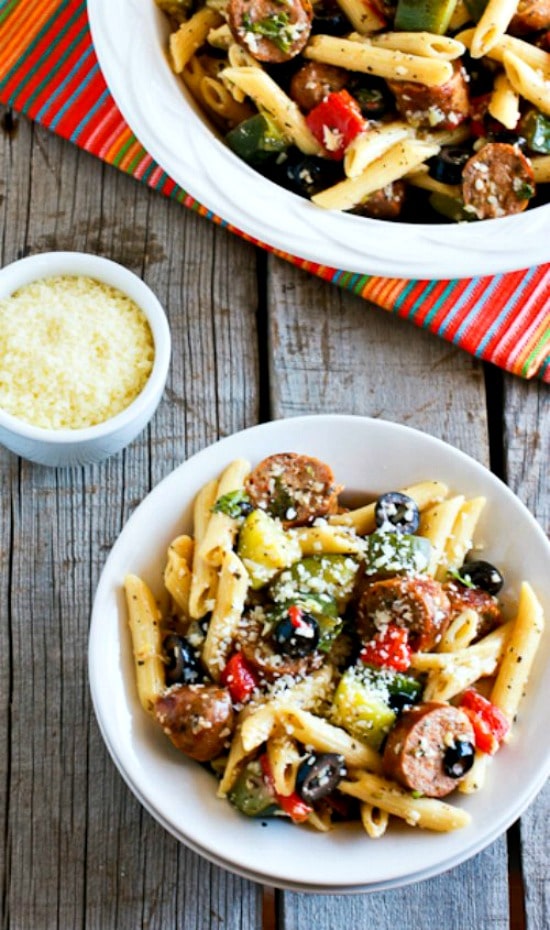 Meal

Pasta

Cusine

Italian
What do you need?
How to make?
Ingredients
2-3 small zucchini, cut in fourths lengthwise, then cut into pieces
4-5 links turkey Italian Sausage
3 cups
1 can sliced black olives
1 jar roasted red bell peppers
1/2 cup coarsely grated Parmesan cheese, plus more for adding at the table
1 cup bottled Italian Vinaigrette
1/4 cup chopped fresh basil
1 T dried basil
Directions
Cut zucchini lengthwise into fourths, then cut into pieces about 3/4 inch long. Cook zucchini about 5 minutes in boiling, salted water, then drain well and cool.While the zucchini cooks, wash fresh basil and chop finely (or thaw the frozen basil.) Mix fresh or frozen basil and dried basil into the dressing.Drain the zucchini well in a colander placed in the sink; then put zucchini into small Ziploc bag with about 1/4 cup of the dressing and let it marinate on the counter until you're ready to assemble the salad. (If you can, let this marinate for an hour or two, although even 20-30 minutes marinating time will add to the flavor.)Drain the olives well (and if you don't have sliced olives, cut olives in half lengthwise or slices.) Drain the red peppers and cut into bite-sized pieces.Saute sausage in small amount of olive oil in large frying pan until it is firm and nicely browned on all sides. Remove from pan and let cool until it's is cool enough to handle, then cut into slices slightly less than 1/2 inch thick.While sausage is cooling, bring a large pot of salted water to a boil and cook pasta 9-10 minutes, or until still slightly al dente. (Be careful not to cook it until it is soft or it will be mushy in the salad. Slightly underdone is better than overdone if you're not sure.) Briefly rinse pasta with very cold water, then drain in colander and let cool.When pasta is slightly cooled, mix pasta and and sausage into olive/pepper mixture. Add zucchini and any dressing which is in the bag. Add the rest of the dressing mixture and 1/2 cup Parmesan cheese and mix gently.Chill the salad for 1 hour or more if possible. Serve with additional coarsely-grated Parmesan to add at the table.This will keep for a day or so in the refrigerator, but you might want to add a little extra dressing before serving the leftovers.