All Recipes
Low-Carb Turkey Meatballs with Romano Cheese and Herbs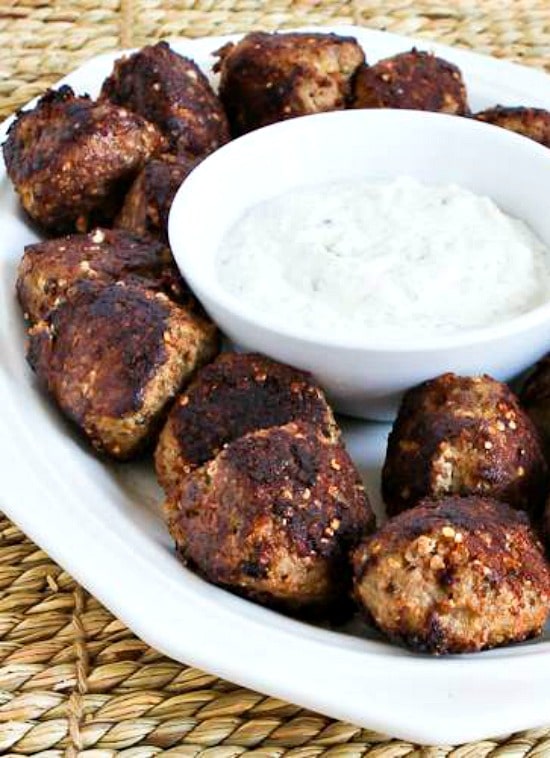 Meal

Main Dish

Cusine

Low-Carb
What do you need?
How to make?
Ingredients
1 1/2 lbs. ground turkey
1/2 cup Romano
1/4 cup raw hemp seed
1 tsp. granulated garlic
1 tsp. teaspoon rubbed sage
1 tsp. dried rosemary
1 tsp. dried thyme
1 egg, beaten
2 tsp. Worcestershire sauce
3-4 tsp. olive oil, for frying the meatballs
Directions
Take ground turkey out of the refrigerator, put into medium sized plastic bowl, and let come to room temperature.While turkey is coming to room temperature, put granulated garlic, dried sage, dried rosemary, and dried thyme in a mortar and pestle or spice grinder and grind until it's fairly fine. (If you're making these meatballs for kids I might use a smaller amount of herbs, especially the sage and rosemary, since those are fairly strong flavors.)When meat is room temperature, sprinkle ground herbs, Romano or Parmesan-Romano cheese, and hemp hearts over the meat.Then add the egg and Worcestershire sauce.Wash hands.Then use your hands to mix the herbs, cheese, and egg into the ground turkey. (Try not to overmix, just squeeze together until it's combined.)Use a spoon to scoop out same-size pieces of meat and form into individual meatballs by rolling them between your hands. (The mixture will be soft, but it will firm when the turkey is cooked.)When all meatballs are rolled, heat 1 T (3 tsp.) olive oil in a large non-stick frying pan. (Add the additional tsp. of olive oil as they cook if needed.)Fry meatballs over medium heat, turning every few minutes to a new side, until all meatballs are well browned and done through, about 15 minutes.Cut one in half to be sure the inside is done, or test with a meat thermometer to be sure the temperature is at least 165F for ground turkey.Serve hot.