All Recipes
Cheesy Low-Carb Zucchini and Basil Strata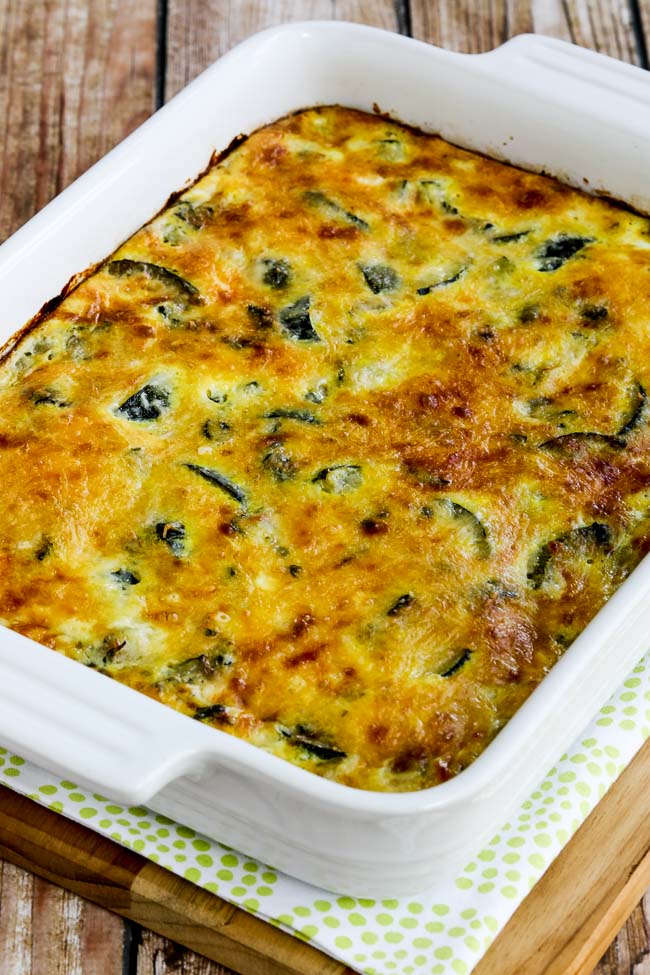 Meal

Breakfast

Cusine

Low-Carb
What do you need?
How to make?
Ingredients
1 monster zucchini, 14-16 inches long
2 T olive oil
salt and fresh-ground black pepper to taste
3/4 cup chopped fresh basil
1 cup grated Mozzarella cheese
1/2 cup grated Monterey Jack cheese
10 eggs
1/2 cup + 1/2 cup coarsely grated Parmesan or Asiago cheese
Directions
Preheat oven to 400F/200C.Use a 9 X 12 glass casserole dish for this and spray with olive oil or nonstick sprayWash zucchini, then cut off ends (and if using monster zucchini cut in half crosswise to get manageable sized pieces.)Cut each zucchini or each half of the monster zucchini into fourths (or sixths) lengthwise.Use a spoon or small knife to scrape away the seeds and most of the white inside, leaving about 3/8 inch of white attached to the skin.Then cut each strip crosswise into slices about 3/8 inch wide.Heat olive oil in large nonstick frying pan, add zucchini and saute 2-3 minutes over medium-high heat.Add Spike and fresh basil and saute 2-3 minutes more.Seasoning the zucchini with salt and fresh ground black pepper. (Zucchini should be barely starting to soften when you turn off the heat.)Put zucchini into casserole dish and top with the Mozzarella and Monterey Jack cheese. Combine eggs and 1/2 cup coarsely grated Parmesan or Asiago and beat well. Pour egg mixture over zucchini and cheese and gently stir so it's well combined, with some zucchini pieces "peeking" out of the egg. Sprinkle the other 1/2 cup Parmesan or Asiago over top. Bake 3o-35 minutes, or until the mixture is well set and slightly browned on top. Serve hot, with a little sour cream if desired.