All Recipes
Low-Carb Baked Buffalo Chicken with Melted Blue Cheese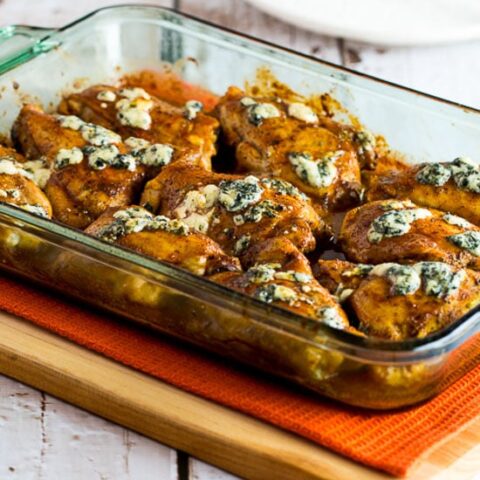 Meal

Breakfast

Cusine

Low-Carb
What do you need?
How to make?
Ingredients
10 skin-on-bone-in chicken thighs
salt and fresh-ground black pepper to season chicken
1 tsp. dried Poultry Seasoning
1/3 cup crumbled blue cheese
1/3 cup Frank's Red Hot Sauce
1 1/2 T olive oil
1 1/2 T Worcestershire Sauce
1/2 tsp. garlic powder
1/2 tsp. onion powder
1-2 tsp. Green Tabasco Sauce 
2 tsp. yellow mustard
1 T Golden Monkfruit Sweetener
Directions
Preheat oven to 400F/200C.  Spray a glass or crockery baking dish with olive oil or non-stick spray.  (I used a dish that was about 9″ x 13″ but any dish that will fit the chicken thighs in a single layer will work.) Use Kitchen Shears (affiliate link) or a sharp knife to remove the skin and trim away fat from the thighs, paying special attention to the pocket of fat on the underneath side.  (I save the skin and chicken scraps to make homemade chicken stock.) Put the chicken thighs skin-side up in the baking dish and season with salt, fresh-ground black pepper, and the dried poultry seasoning. Bake chicken 15 minutes while you whisk together the Frank's Red Hot Sauce (affiliate link), olive oil, Worcestershire Sauce, onion powder, garlic powder, Green Tabasco Sauce (affiliate link), yellow mustard, and Golden Monkfruit Sweetener (affiliate link) or other sweetener to make the sauce. After initial 15 minutes, turn the chicken pieces over, and brush with half the sauce mixture, and bake chicken 10 minutes more. Then turn chicken again (so skin side is up again) and brush with the remaining sauce and bake another 10 minutes. Remove blue cheese from fridge and crumble apart.   When chicken has baked 10 minutes with the sauce on the top side, sprinkle blue cheese over the chicken and bake 10 minutes more. Serve hot.