All Recipes
Red Cabbage and Chicken Asian Salad with Tangy Cilantro Dressing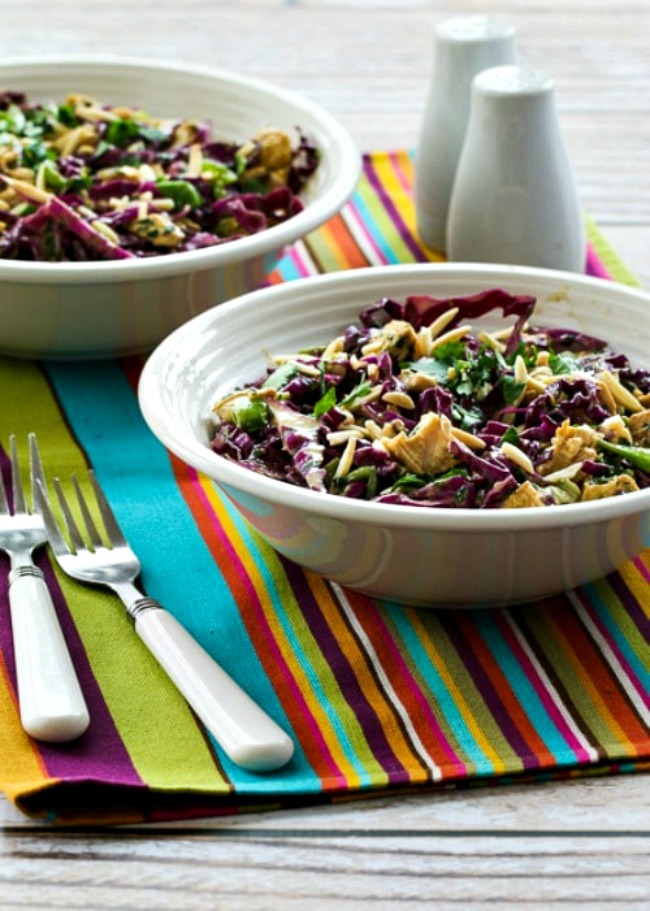 What do you need?
How to make?
Ingredients
2 – 3 cups very thinly sliced red cabbage
1 cup diagonally sliced sugar snap peas
1/3 cup diagonally sliced green onions
2 cups diced cooked chicken
1/2 tsp. ginger puree or minced fresh ginger
1/2 tsp. garlic puree or minced fresh garlic
1/4 cup finely chopped fresh cilantro
3 T peanut butter
1 T fresh squeezed lemon juice
2 T peanut oil
3 T soy sauce
1 T very hot water
1 T sweetener of your choice
2-3 T finely chopped fresh cilantro
1/4 cup finely chopped almonds or peanuts
Directions
Remove outer leaves from cabbage, cut out core, and cut into thin slices not more than 1/4 inch thick; use a Mandoline Slicer to cut the cabbage if you have one.Cut sugar snap peas (or other vegetables) into thin diagonal slices or matchstick pieces and thinly slice green onions.Chop chicken into pieces about 1 inch square.Put ginger puree , garlic, cilantro (or sliced green onion), peanut butter (use natural low-sugar peanut butter, or pick the peanut butter with the least amount of sugar), lemon juice, peanut oil, soy sauce (use Gluten-Free Soy Sauce for gluten-free), hot water, and sweetener of your choice (Stevia In the Raw Granulated Sweetener,) in food processor.Pulse about one minute, until ingredients are well combined.Taste to see if you want more peanut butter. (I think this could be done in a blender if you don't have a food processor.)Put the chopped chicken into a large salad bowl with about half the dressing, then toss until all the chicken is coated with dressing.Add the cabbage, sugar snap peas, and sliced green onions and toss, adding more dressing as desired.Divide salad into individual serving bowls and garnish with chopped cilantro and almonds or peanuts.