All Recipes
Baked White Fish with Pine Nut, Parmesan, and Basil Pesto Crust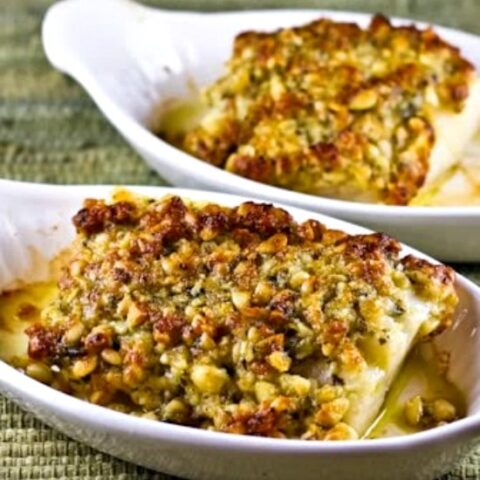 What do you need?
How to make?
Ingredients
2 white fish fillets, about 6 oz. each
3 T pine nuts
2 T Parmesan Cheese
1/4 tsp. finely minced garlic
1 tsp. basil pesto
1 1/2 T mayo
Directions
Preheat oven or toaster oven to 400F/200C. Spray individual casserole dishes with non-stick spray or olive oil (use one large casserole dish if you don't have individual ones.) Remove the fish fillets from the refrigerator and let them come to room temperature while the oven reheats. (Having the fish at room temperature is very important or it won't cook before the crust topping gets too brown.) Use a large chef's knife to finely chop the pine nuts and mince the garlic. Mix together chopped pine nuts, Parmesan cheese, minced garlic, basil pesto, and mayo. Use a rubber scraper to spread the crust mixture evenly over the surface of each fish fillet. Pile it on so all the crust mixture is used. Bake fish 10-15 minutes, until fish is firm to the touch and crust mixture is starting to lightly brown. (I baked the fish pieces in the photo for 13 minutes.) Serve hot.