All Recipes
Low-Carb and Gluten-Free Cheese Crackers with Almond Flour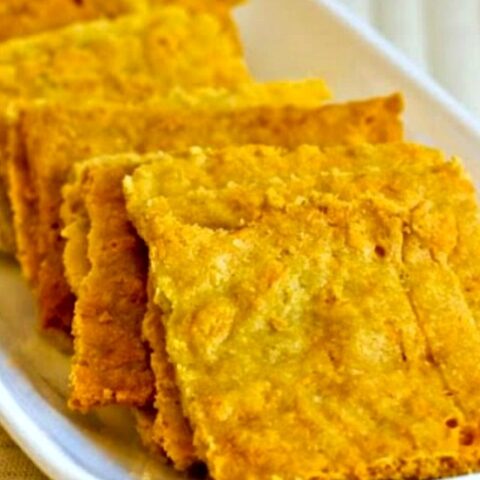 Meal

Breakfast

Cusine

Low-Carb
What do you need?
How to make?
Ingredients
1 1/4 cup blanched almond flour
1/8 tsp. salt
1/4 tsp. baking soda
1/2 cup freshly grated cheddar cheese
1 1/2 T neutral-flavored oil
1 large egg
Directions
If you store your almond flour in the freezer like I do, you'll need to take it out and let come to room temperature for a few minutes before using in the recipe. Preheat oven to 350F/175C. Grate 1/2 cup cheddar cheese. In a medium-sized bowl, combine almond flour, salt, baking soda and cheese. In a smaller bowl, whisk together the egg and oil. Pour the egg mixture into the dry ingredients and stir until well-combined. Cut two pieces of parchment paper the size of your baking sheet. Put one piece of parchment on cutting board and put dough on top, or half the dough if baking on small baking sheet. (I made the dough into the shape of the parchment.) Put second piece of parchment on top of the dough and roll out with rolling pin until dough covers the parchment sheet. (It's fairly important to roll it out the same thickness or the thinner pieces will burn, a lesson I learned the hard way.) Remove top parchment and cut dough into pieces 2 inches square. (A pizza cutter would be perfect for this if you have one.) Slide the parchment with the cut dough onto baking sheet and bake crackers 12-15 minutes, or until lightly browned. Let crackers cool on the baking sheet for 30 minutes. Crackers will keep for a few days in a plastic container, if you can manage to keep them around that long!