All Recipes
Low-Carb Southwest Egg Casserole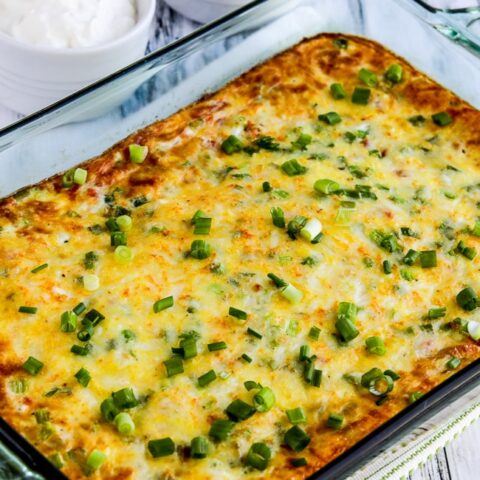 Meal

Breakfast

Cusine

Low-Carb
What do you need?
How to make?
Ingredients
 1 14.5 oz. can diced tomatoes, very well drained
14 eggs
1 4 oz. can diced green chiles
salt and fresh-ground black pepper to taste
2 tsp. Spike Seasoning
1 cup grated Monterey Jack cheese
1 cup grated Mozzarella cheese
1/2 cup thinly sliced green onions
Directions
Dump the tomatoes into a colander (affiliate link) placed in the sink and let them drain well. Slice the green onions (and I do recommend using the full amount because they add a lot of flavor.) Put the drained tomatoes, sliced green onions, and diced green chiles (affiliate link) into the casserole dish and stir to combine. (Save a few green onions for garnish if you like.) Beat the eggs until they're well-combined and add salt and pepper, and Spike Seasoning (affiliate link). Sprinkle 3/4 cup Monterey Jack cheese and 3/4 cup Mozzarella cheese over the veggies. Then pour over the egg mixture, and stir with a fork to combine. Sprinkle the other 1/4 cup of each kind of cheese over the top. Bake in a preheated 375F/190C oven about 30 minutes, or until eggs are completely set and the casserole is lightly browned on top. Serve hot, with sour cream and salsa if desired.