All Recipes
Peanut Soba Stir Fry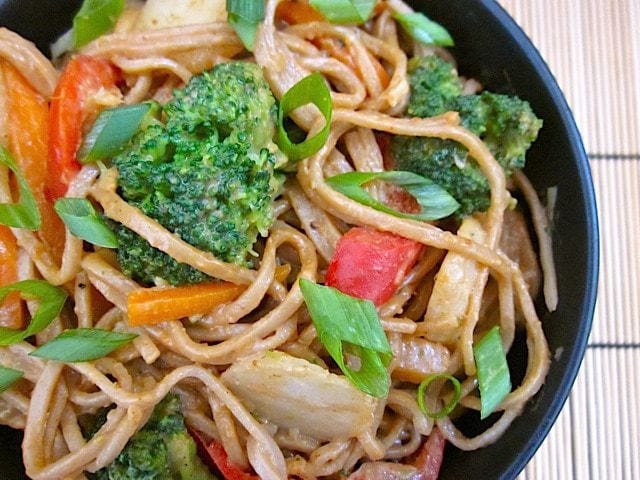 Meal

Breakfast

Cusine

Asian
What do you need?
How to make?
Ingredients
2 inches fresh ginger
1/2 cup natural peanut butter
1/2 cup hoisin sauce
1/3 cup hot water
1/2 tsp sriracha hot sauce
2 Tbsp vegetable oil
2 cloves garlic
1 lb. frozen stir fry vegetables
8 oz. soba noodles
2 sliced green onions, optional
Directions
Prepare the sauce first. Peel and grate one inch of ginger into a bowl. Add the peanut butter, hoisin sauce and sriracha hot sauce, and 1/3 cup of hot water. Stir or whisk until smooth. Set the sauce aside until it is needed. Prepare a very large skillet or wok with 2 Tbsp of vegetable oil. Grate another inch of ginger into the oil. Mince two cloves of garlic and add to the oil as well. Turn the heat up to medium high and saute for 1-2 minutes. Add the bag of frozen vegetables and cook until heated through. Use as large of a skillet as possible so that the residual moisture from the vegetables will evaporate quickly. Over crowding the skillet will leave you with a soupy mess. Frozen vegetables are blanched prior to freezing so they will already be slightly cooked and soft. Stir fry vegetables should still have a slight crunch and vibrant color. Do not cook them until they are very soft and dull in color. While the vegetables are cooking, bring a medium pot of water up to a rolling boil. Add the soba noodles and cook until soft (5-6 minutes). Drain the noodles in a colander. Once the vegetables have cooked, add the drained noodles and peanut sauce. Stir until everything is combined and coated with sauce. Garnish with sliced green onions if desired.