All Recipes
Parmesan & Pepper Kale Pasta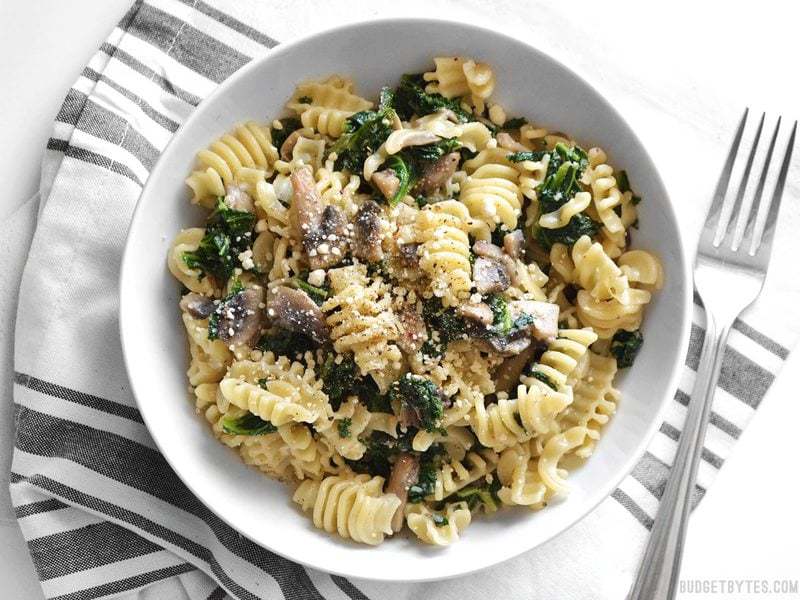 What do you need?
How to make?
Ingredients
2 Tbsp butter
2 cloves garlic
8 oz button mushrooms
1 bunch kale
1/2 cup chicken broth
1/2 lb pasta
1/2 tsp salt
1/2 cup grated Parmesan
Freshly cracked pepper
Directions
Mince the garlic and slice the mushrooms. Place the butter, garlic, and mushrooms in a large pot and sauté the mushrooms over medium heat until they are soft and dark (about 5 minutes). While the mushrooms are sautéing, tear or cut the kale leaves from the stems, then chop them into small pieces. Rinse the kale well. Add the kale to the pot along with 1/2 cup chicken broth. Stir the kale as it cooks until it is fully wilted. Let the wilted kale simmer in the broth without a lid over medium heat until most of the broth has evaporated (about 10 minutes). While the kale is simmering, bring a medium pot of water to a boil, add the pasta, and cook until al dente (7-10 minutes). Drain the pasta and let it cool slightly, or until it looks a little dry and tacky in texture. Remove the pot with the kale and mushrooms from the heat. Add the pasta and stir to combine. The pot should be warm, but not steaming hot. If it's still steaming, let it cool for about 5 minutes.* Once slightly cooled, add 1/2 tsp salt, about 20 cranks of a pepper mill (or more if desired), and the grated Parmesan. Stir until all the pasta and vegetables are coated in Parmesan and pepper. Taste the pasta and add more salt or pepper if needed.