All Recipes
Roasted Vegetable Burritos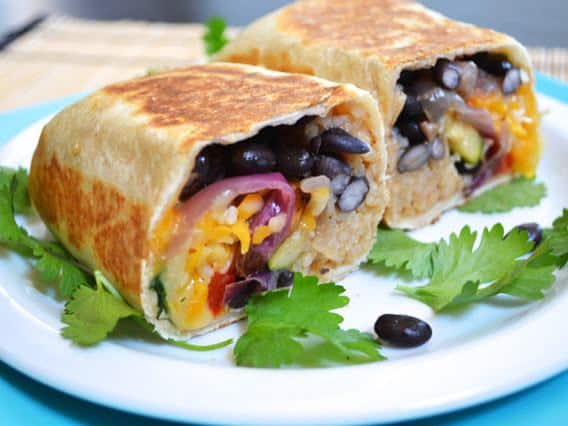 Meal

Breakfast

Cusine

Mexican
What do you need?
How to make?
Ingredients
1 1/2 cups dry white rice
1 tsp salt
1/2 Tbsp chili powder
1 large zucchini
1 medium red onion
1 large red bell pepper
8 oz. button mushrooms
1/2 tsp salt
1/2 tsp cumin
1/2 tsp oregano
2 Tbsp olive oil
10 large flour tortillas
3 cups or 2 cans black beans
2 1/2 cups shredded cheese
1 bunch cilantro
Directions
Preheat your oven to 400 degrees. Chop the zucchini, bell pepper, onion, and mushrooms into bite-sized pieces. Toss the vegetables with 2 Tbsp olive oil, 1/2 tsp salt, 1/2 tsp cumin, and 1/2 tsp oregano. Spread the vegetables out over a large sheet pan and roast for 40 minutes, stirring once half way through. Combine the rice in a medium pot with 1 tsp of salt and 1/2 Tbsp of chili powder. Add 3 cups of water, place a lid on top, and bring up to a boil over high heat. As soon as it reaches a full boil, turn the heat down to the lowest setting and allow it to simmer for 20 minutes. After 20 minutes, turn the heat off and let it sit undisturbed until you're ready to assemble the burritos. Fluff the rice just before using. When you're ready to make the burritos, stack a few tortillas on a large plate, place a damp paper towel over top, and microwave for 30 seconds. This will make the tortillas more pliable as you wrap the burritos. Place 1/4-1/3 cup of rice on a tortilla, add 1/4 cup of black beans, 1/3 cup of the roasted vegetables, 1/4 cup of shredded cheese, and a handful of fresh cilantro leaves. Roll the burrito tightly and wrap in plastic until ready to eat.