All Recipes
"Oatmeal Cookie" Baked Oatmeal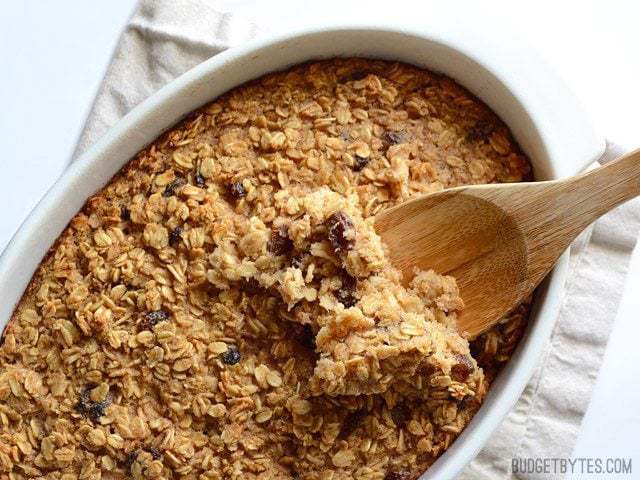 What do you need?
How to make?
Ingredients
1.5 cups unsweetened applesauce
1 large egg
1/2 cup brown sugar
1/2 Tbsp vanilla extract
1/2 Tbsp cinnamon
1/4 tsp nutmeg
3/4 tsp salt
1 tsp baking powder
2 Tbsp melted butter
1.5 cups milk
1/2 cup raisins
3 cups old-fashioned rolled oats
Directions
Preheat the oven to 375 degrees. In a large bowl, whisk together the apple sauce, egg, brown sugar, vanilla, cinnamon, nutmeg, salt, baking powder, and melted butter. Once whisked smooth, add the milk and whisk until smooth again. Add the raisins and dry rolled oats. Stir with a spoon until the mixture is combined. Lightly coat a 9x9 casserole dish (or any 2-3 quart casserole dish) with non-stick spray, then pour the oat mixture into the dish. Bake the oatmeal uncovered in the fully preheated oven for 45 minutes. Divide into six portions and serve. Baked oatmeal is good warm or cold and tastes great with cold milk poured over top.