All Recipes
Roasted Red Pepper and Feta Frittata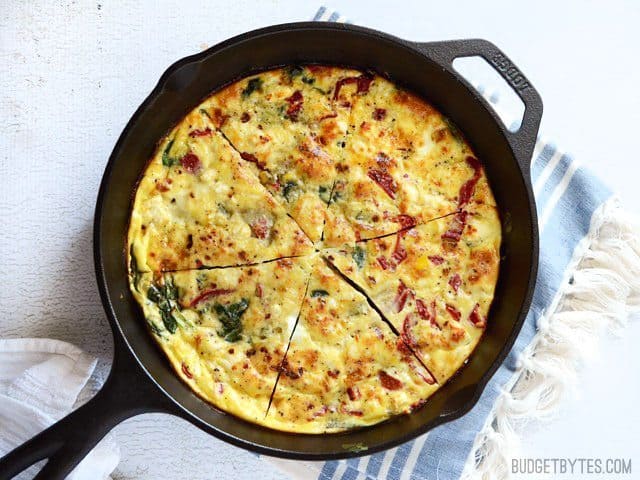 Meal

Breakfast

Cusine

American
What do you need?
How to make?
Ingredients
1 Tbsp canola or vegetable oil
2 cloves garlic
3-4 packed cups baby spinach
1/2 12 oz jar roasted red peppers
2 oz feta
Salt and pepper to taste
Pinch of crushed red pepper
6 large eggs
1/4 cup whole milk or half and half
Directions
Preheat the oven to 350 degrees. Mince the garlic and add it to a 10" oven safe skillet, along with the canola oil. Sauté over medium heat for 1-2 minutes, or just until the garlic is soft and fragrant. Fill the skillet with fresh spinach (about 3-4 cups packed) and continue to sauté until it has wilted (1-2 minutes). Remove the peppers from the jar and slice into thin strips. Add the sliced peppers to the skillet and sauté for 1-2 minutes more. Season the vegetables with salt, pepper, and a pinch of red pepper flakes if desired. Remove from the heat and crumble the feta over top. Whisk together the eggs and milk, adding a pinch of salt and pepper. Pour the eggs over the vegetables in the skillet, then transfer the skillet to the fully preheated oven. Bake the frittata for 20-25 minutes, or until the center is puffed and the top is light golden brown. If more browning is desired, place the frittata under the broiler for 1-2 minutes. This will quickly brown the top without over cooking the egg inside. Slice into 6-8 pieces and serve (1-2 pieces per person depending on size and appetite).