All Recipes
California Tom Yum Soup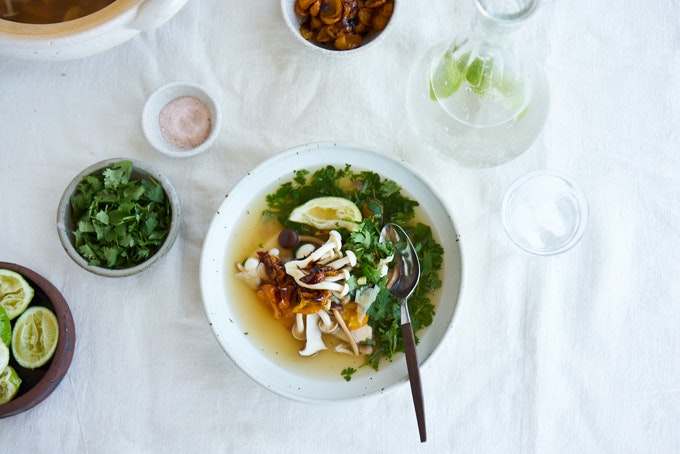 Meal

Soup

Cusine

California Thai Vegetarian
What do you need?
How to make?
Ingredients
8 cups of water
2 large roma tomato , or mix
2 dried guajillo chile peppers, coarsely chopped
1 1/2 tablespoons palm, muscovado or brown sugar
1 quantity of Tom Yum Paste*
8 - 12 ounces mixed mushrooms
splash of shoyu or soy sauce, to taste
1/3 cup fresh lime juice, or to taste
1/4 cup chopped cilantro in each bowl, for serving
To serve: Serve on its own with lime wedges, or with steamed rice, and warm tofu. Bonus points for a drizzle of lemon olive oil, or lime oil for serving, and roasted cherry tomatoes.
Directions
Bring the water to a boil in a medium saucepan, add the raw tomato, guajillo chile, and sugar. Simmer for a few minutes, until the tomato softens a bit, add the Tom Yum Paste*. Allow to simmer for a minute or two, before adding the mushrooms. Simmer until tender, just a minute or two. Add a small splash of shoyu or soy sauce, and about half of the lime juice. Taste, and adjust with more of either, if needed. Place 1/4 cup of chopped cilantro in the base of each bowl, and top with the soup.