All Recipes
Chimichurri Chicken and Rice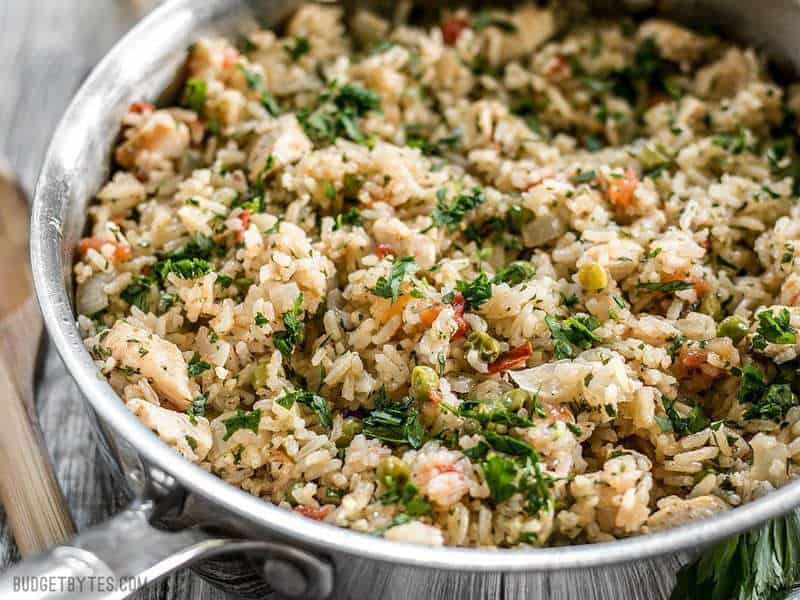 What do you need?
How to make?
Ingredients
1/4 cup extra virgin olive oil
2 Tbsp red wine vinegar
1/2 tsp dried oregano
1/4 tsp cumin
Pinch red pepper flakes
1/4 tsp salt
1 clove garlic
1/2 cup fresh parsley, chopped
1/2 cup fresh cilantro, chopped
1 Tbsp olive oil
1 boneless, skinless chicken breast
Pinch salt and pepper
1 yellow onion
2 Roma Tomatoes
1/2 cup frozen peas
1 cup long grain white rice*
1.5 cups water
Directions
Prepare the chimichurri first to allow time for the flavors to blend. Combine the olive oil, red wine vinegar, oregano, cumin, red pepper flakes, and salt in a bowl. Pull the parsley and cilantro leaves from the stem and finely chop them. Mince the garlic. Stir the parsley, cilantro, and garlic into the bowl with the oil, vinegar, and spices. Set the chimichurri aside. Cut the chicken breast into very small pieces, then season with a pinch of salt and pepper. Heat one tablespoon of olive oil in a deep skillet over medium heat. Once hot, add the chicken pieces and sauté until golden brown. While the chicken is browning, dice the onion. Remove the chicken pieces from the skillet once golden brown, and add the diced onion in their place. Sauté the onion until soft (about 5 minutes). While the onion is sautéing, dice the tomatoes. Once the onions are soft, add the diced tomatoes and sauté for about two minutes more, or until they begin to break down. Add the chicken back to the skillet along with the frozen peas, uncooked rice, water, and 1/4 tsp salt. Briefly stir to combine all the ingredients. Place a lid on the skillet, turn the heat up to medium-high, and let it come to a boil. As soon as it reaches a boil, turn the heat down to low or medium-low, and let it simmer gently for 15 minutes. After 15 minutes, turn the heat off and let it rest for 10 minutes. After letting the rice rest for 10 minutes, remove the lid and fluff with a fork. Pour the prepared chimichurri over the rice and fold it in to combine. Be careful not to vigorously stir the chimichurri into the rice because this will cause it to become sticky and mushy. Taste the chimichurri chicken and rice and season with extra salt if needed. Top with an extra pinch of fresh parsley or cilantro for garnish, then serve.