All Recipes
Broccoli and Cauliflower Salad with Feta and Tarragon Vinaigrette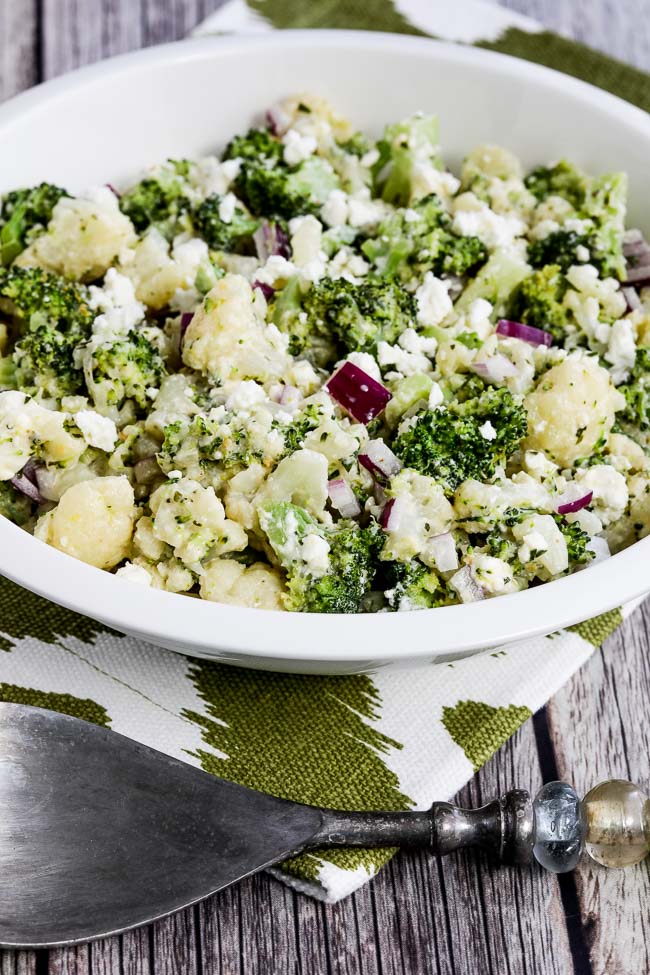 What do you need?
How to make?
Ingredients
4 cups bite-sized broccoli flowerets
4 cups bite-sized cauliflower flowerets
1/2 red onion, chopped small
1 cup crumbled Feta cheese
4 T olive oil
1/4 cup mayo
zest from one lemon
3 T fresh lemon juice
1 T Dijon mustard
2 tsp. chopped fresh tarragon
1 tsp. Spike Seasoning
salt and fresh ground black pepper to taste
Directions
Bring a pot of lightly salted water to a boil while you cut up broccoli and cauliflower into bite-sized pieces.When water boils, add the cauliflower and cook 1 minute.Then add the broccoli and cook 2-3 minutes more, just until veggies are barely starting to get tender. (Test a piece with a fork.)When veggies are done, drain in a colander placed in the sink. Let them drain well, or pat dry with paper towels if you're in a rush.While veggies drain and come to room temperature, chop the red onion and crumble the Feta.Zest the lemon and squeeze the juice.Chop the fresh tarragon, or other herbs of your choice.Whisk together the olive oil, mayo, lemon zest, lemon juice, Dijon, chopped tarragon, Spike Seasoning (affiliate link), and salt and pepper to make the dressing.When broccoli and cauliflower is at room temperature, toss with desired amount of dressing.Then gently mix in the red onion.Carefully fold in the Feta cheese and season salad to taste with salt and fresh-ground black pepper.Serve salad at room temperature.Leftovers will keep in the fridge for a day or two, but the salad is definitely best when it's freshly made.