All Recipes
Instant Pot Low-Carb Chicken Tomatillo Soup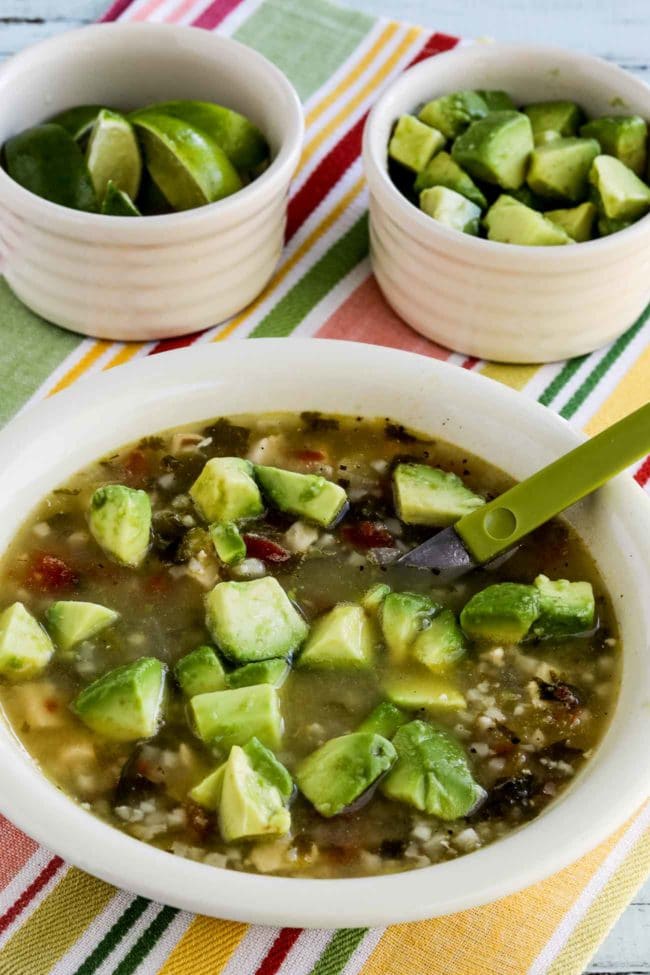 Meal

Soup

Cusine

Low-Carb
What do you need?
How to make?
Ingredients
I can
6 medium-sized tomatillos, chopped to make about 2 cups finely chopped tomatillos
1 onion, finely chopped
8 cups chicken stock
1 can
1 tsp. Mexican oregano
1/2 tsp. ground cumin
1 tsp. salt
fresh-ground pepper to taste
4 cups diced cooked chicken breast
1 pkg. frozen cauliflower rice
1 cup chopped fresh cilantro
1 T fresh-squeezed lime juice
2 diced avocados, for serving
Fresh lime pieces to squeeze into the soup at the table
Directions
Dump Ro-Tel Tomatoes (affiliate link) into a colander placed in the sink and let them drain while you chop tomatillos and onion. (We used original flavor Ro=Tel, but you might want to use mild Ro-Tel if you're cooking for kids.)Remove husks from tomatillos, wash if needed, but off end where the stem was, then chop up tomatillos into small pieces.Chop onion into small pieces.Put drained tomatoes, chopped tomatillos and onions, chicken stock, diced green chiles (affiliate link), Mexican Oregano (affiliate link), ground cumin (affiliate link), salt, and fresh-ground pepper into the Instant Pot. (We used Kirkland Organic Chicken Stock, but if you have homemade chicken stock that will be even better!)Lock Lid, set Instant Pot to MANUAL, LOW PRESSURE (or use Soup Setting), 20 MINUTES.While Instant Pot comes to pressure and cooks 20 minutes, chop up enough cooked chicken breast to make 4 cups cooked chicken. (We used cut-up rotisserie chicken from Costco.)Break apart the cauliflower rice in a 12 oz. package frozen cauliflower rice (you can do this by pounding it on the counter before you open the package) then put cauliflower rice into a bowl or measuring cup and let it start to thaw.When pressure cooking time is up, use QUICK RELEASE METHOD to release the pressure.Add cooked chicken and cauliflower rice to the Instant Pot. Set to SAUTE, MEDIUM HEAT, and simmer 15-20 minutes uncovered, or until soup has cooked down some and flavors are combined. (If it seems like it's boiling too much, turn Instant Pot temperature down to low.)Chop cilantro, cut up avocado, and cut limes while the soup is simmering. (Toss the avocado with a little lime juice if desired to keep it from turning brown.)Add chopped cilantro and lime juice and simmer 2-3 minutes more.Serve hot, with more lime and chopped avocado to add at the table if desired.